How to Bust 'Ghost' Tax Preparers
Tax season has arrived again and this year is no different as scammers begin ramping up their activities. We continue to see a spike of tax related scams during this time of year, but we're here to help you avoid falling victim to fraud by sharing the top tax-related scams to be aware of and their red flags.
'Ghost' Tax Preparer
Paying taxes can be a confusing process, especially if your sources of income are complex. Many taxpayers enlist the services of a tax return preparer to help file their yearly return, but the IRS is warning of 'ghost' preparers who will prepare a tax return but not sign it making it worthless. They will usually require a cash payment upfront and then create a bogus tax return, leaving their victim in the dust. They may properly fill out your taxes, making their fraudulent activity harder to detect, but then list their own banking routing and account numbers for a direct deposit.
If you opt to use a tax preparer, choose them wisely and be sure to verify all the information on your return. The IRS has a helpful directory of federal tax return preparers here.
Posing as the IRS
You may have come across this scam before where fraudsters attempt to pose as the IRS. The tried-and-true method of scammers, this trick often works because it can be very frightening if believed as a legitimate call.
Typically, the caller will claim to be the IRS and demand immediate payment via debit card, a wire transfer and now often cryptocurrency. Worryingly, the call will likely end with a threat to sue or bring in the police to have you arrested. It is important to remember that the only form of contact from the IRS is via email and they will never call, text or email you unexpectedly. The IRS never generate calls out to clients so don't trust calls purporting to be the IRS and its toll-free number for individuals (800-829-1040) will never originate a phone call to a consumer.
Unpaid Taxes and Tax Debt Relief
For those of you who don't know, debt relief can require a lot of hoops to jump through for qualification. Additionally, a large amount of debt may cause someone to be desperate for help, so when a call arrives claiming they can settle your tax debt for pennies they may easily believe it.
There are legitimate services that provide tax debt assistance, although they may be unsuccessful in settling the debt. However, some scammers claim to be offering legitimate services but really are just attempting to collect cash and personal information from their victims. These scams can often be identified by over optimistic promises, failure to do a background check and large upfront fees.
It is best practice to never engage with unknown numbers and report phone numbers being used by scammers to your carrier. If you believe you are the victim of a scam, you can report it to your local police, state Attorney General's office and the FTC.
Call-blocking apps, including those powered by TNS Call Guardian®, are also a great resource for reporting and blocking unwanted robocalls. Stay vigilant and share information about scams with others.
Call Guardian is a registered trademark of Transaction Network Services, Inc.
Discover more about how TNS robocall protection services help your subscribers and expand your network.
Unwanted Calls Nationwide Snapshot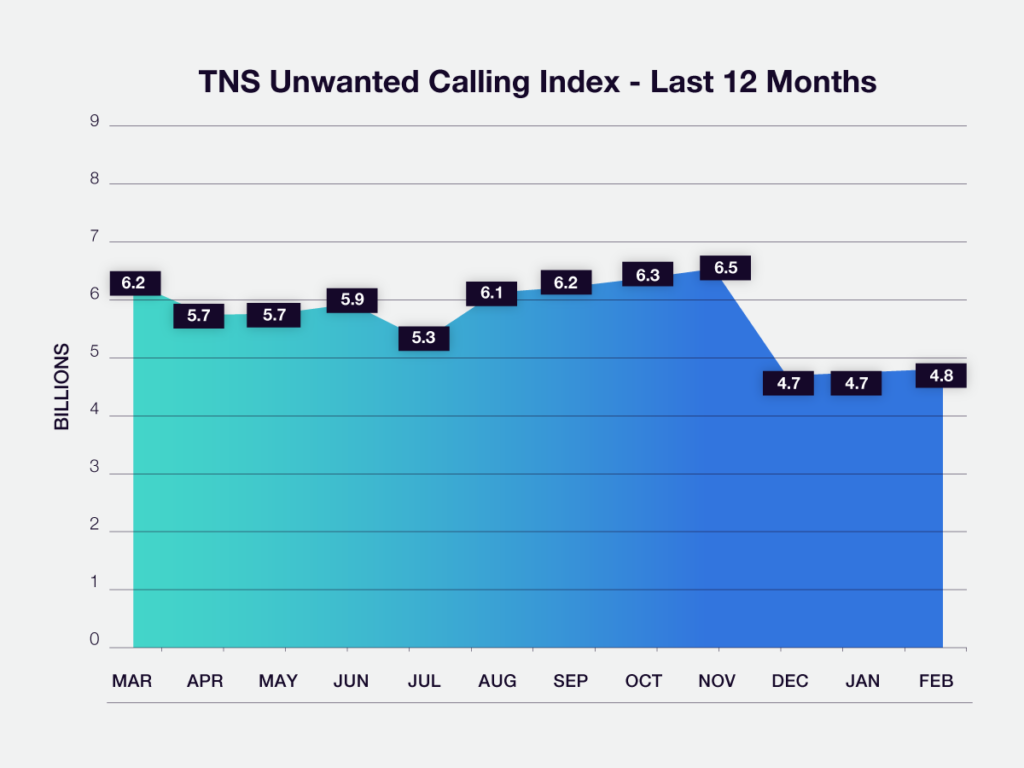 TNS estimates that more than 72.0 billion unwanted  calls were made in the last 12 months representing an 6% decrease over the last 12 months versus the previous 12 months.  Unwanted calls increased 2% from January to February at 4.8B.  This represents a 16% decrease from February 2022 to February 2023.
Unwanted calls are comprised of nuisance calls and high-risk calls. The severity of harm of nuisance calls are moderate. The severity of harm for high-risk calls is deemed as a major invasion of privacy that can cause emotional distress.
TNS Heatmap of Originating Unwanted Calls
| | | |
| --- | --- | --- |
| Top 10 Area Codes for Generating Unwanted Calls – Feb 2023 | Top 10 Area Codes for Generating Unwanted Calls – Jan 2023 | Top 10 Area Codes for Generating Unwanted Calls – Feb 2022 |
| | | |
TNS Unwanted Call Indices
| | |
| --- | --- |
| TNS Calling Trust Index – Last 12 Months | TNS Complaint Index – Last 12 Months |
| The TNS Calling Trust Index is a measure of the crowd-source feedback for the unwanted calls that TNS receives in relation to the total number of calls to a subscriber. The index gives an indication of the consumer trust in voice calling and pulls data from our robocall protection platform TNS Call Guardian®. | The TNS Complaint Index is a measure of the FCC complaints for the Do-Not-Call List in relation to the total number of unwanted calls seen by TNS. The index gives an indication to how many consumers are reporting complaints to the FCC relative to the number of unwanted robocalls they receive. |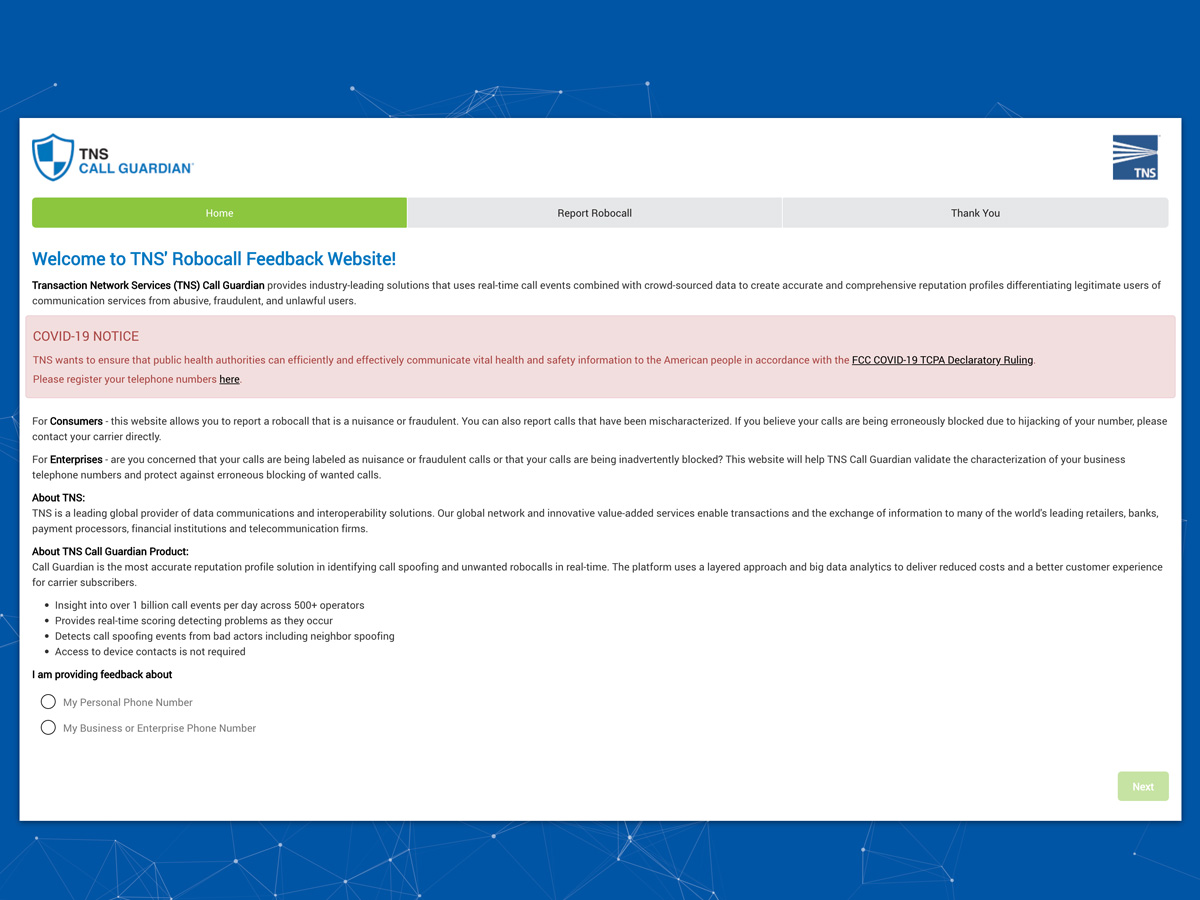 Take Action for Robocall Protection, go to: ReportARobocall.com
TNS Call Guardian uses real-time call events combined with crowd-sourced data to create accurate and comprehensive reputation profiles differentiating legitimate users from abusive, fraudulent and unlawful ones. Reporting robocall incidents adds important data making our solutions more robust.
Contact Us
Contact TNS to learn more about how our robocall protection services enhance your reputation and expand your business.
TNS Robocall Investigation Report Mailing List
Request to be added to the TNS Robocall investigation Report Mailing List Today
Recent Awards