Avoid These Three Holiday Season Scams
The holidays are quickly approaching and although you may be in a giving mood, make sure you are not unknowingly giving to scammers this year. TNS' Robocall Protection team has compiled three of the most common scams that increase during the holidays and explained how to avoid falling for fraudsters' tricks.  
1. Delivery Scams
Online shopping has made buying presents easier than ever in many ways. But scammers have used this as an opportunity to develop many schemes around online shopping, with one common tactic involving a text claiming a package you ordered was undeliverable. They will usually ask you to contact them, which will then lead to a series of questions with the goal of gaining your personal information. It is likely they will ask for payment to return or deliver the package. These scams can easily appear legitimate as they will piggyback off the names of major delivery firms and online retailers such as UPS, USPS and Amazon. They often include a link as well, which you should never click on. These texts or calls can be easily ignored if you are not expecting a package, but if you are missing an order, it is best to reach out directly to the seller.  
2. Donation Scams 
The holidays are often an important fundraising time for charities. Therefore, it will not come as a surprise that we also see a lot of charity scams around year-end, with many ramping up during the season of giving. Many scammers will cold call posing as real charities, but some give the name of a made-up organization and others will even spoof the numbers of legitimate charities. Scammers use enticements to add pressure, for example in a charity scam it is likely they will mention end of year tax write-offs. Luckily it is easy to check the validity of a charity through the web, so be sure to do your research before giving. A major red flag is if the caller is asking for a donation via wire transfer, cryptocurrency or gift cards. If you wish you donate, it is best to donate directly to the charity to ensure it gets into the right hands.  
3. Gift Card Scams  
Our final scam warning relates to an email or text posing as 'management' requesting you to buy gift cards for work. It is not uncommon for offices to organize gifts for charity or coworkers during the holiday season, so these emails can be easily believable. The easiest way to avoid this scam is to double check the sender and confirm the request with the individual requesting the gift card.  
It is best practice to never engage with unknown numbers and report phone numbers being used by scammers to your carrier. If you believe you are the victim of a scam, you can report it to your local police, state attorney's general office and the  FTC.   
Call-blocking apps, including those powered by  TNS Call Guardian®, are also a great resource for reporting and blocking unwanted robocalls. Stay vigilant and share information about scams with others.   
Call Guardian is a registered trademark of Transaction Network Services, Inc.   
Discover more about how TNS robocall protection services help your subscribers and expand your network.
Unwanted Calls Nationwide Snapshot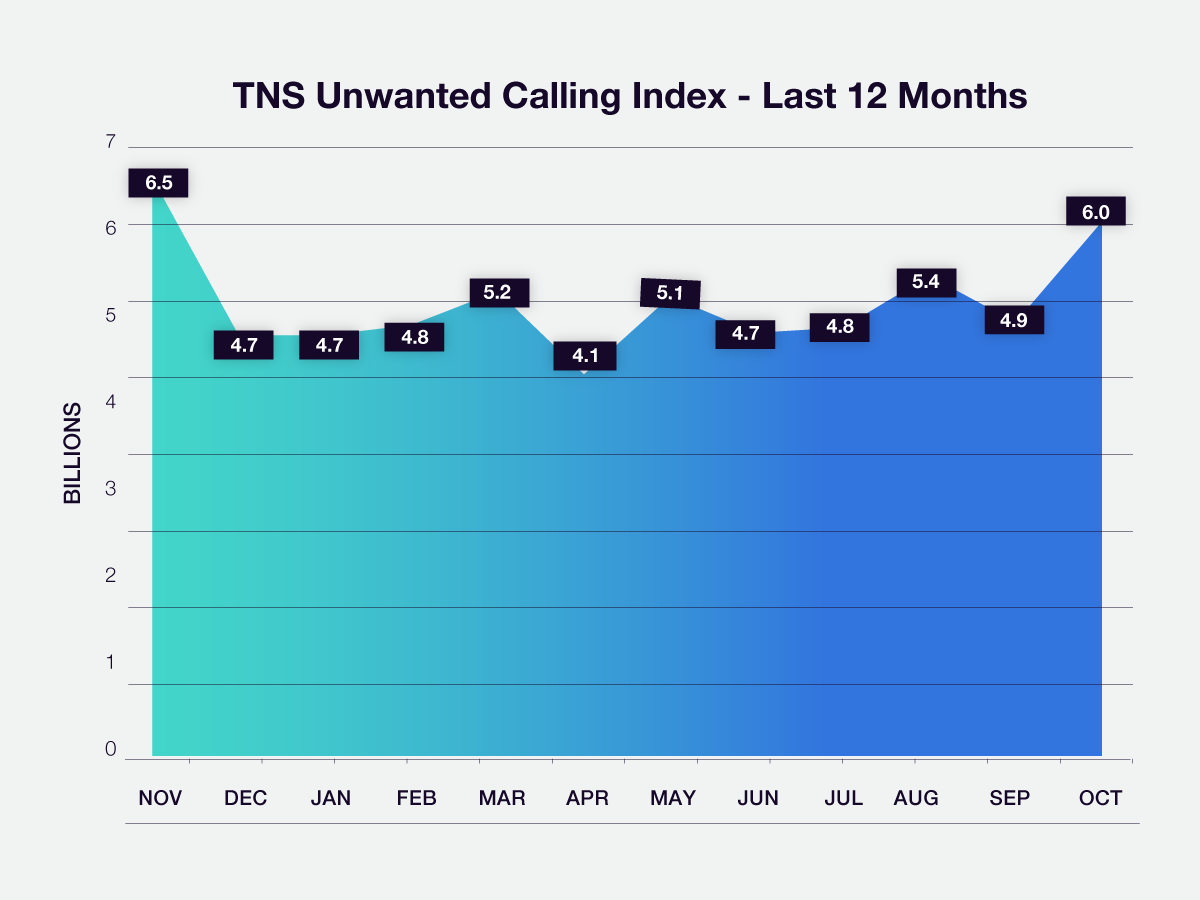 TNS estimates that more than 62 billion unwanted calls were made in the last 12 months representing an 19% decrease over the last 12 months versus the previous 12 months. Unwanted calls increased 22% from September to October at 4.9B. This represents a 4% decrease from October 2022 to October 2023.
Unwanted calls are comprised of nuisance calls and high-risk calls. The severity of harm of nuisance calls are moderate. The severity of harm for high-risk calls is deemed as a major invasion of privacy that can cause emotional distress.
TNS Heatmap of Originating Unwanted Calls
| | | |
| --- | --- | --- |
| Top 10 Area Codes for Generating Unwanted Calls – October 2023 | Top 10 Area Codes for Generating Unwanted Calls – September 2023 | Top 10 Area Codes for Generating Unwanted Calls – October 2022 |
| | | |
TNS Unwanted Call Indices
| | |
| --- | --- |
| TNS Calling Trust Index – Last 12 Months | TNS Complaint Index – Last 12 Months |
| The TNS Calling Trust Index is a measure of the crowd-source feedback for the unwanted calls that TNS receives in relation to the total number of calls to a subscriber. The index gives an indication of the consumer trust in voice calling and pulls data from our robocall protection platform TNS Call Guardian®. | The TNS Complaint Index is a measure of the FCC complaints for the Do-Not-Call List in relation to the total number of unwanted calls seen by TNS. The index gives an indication to how many consumers are reporting complaints to the FCC relative to the number of unwanted robocalls they receive. |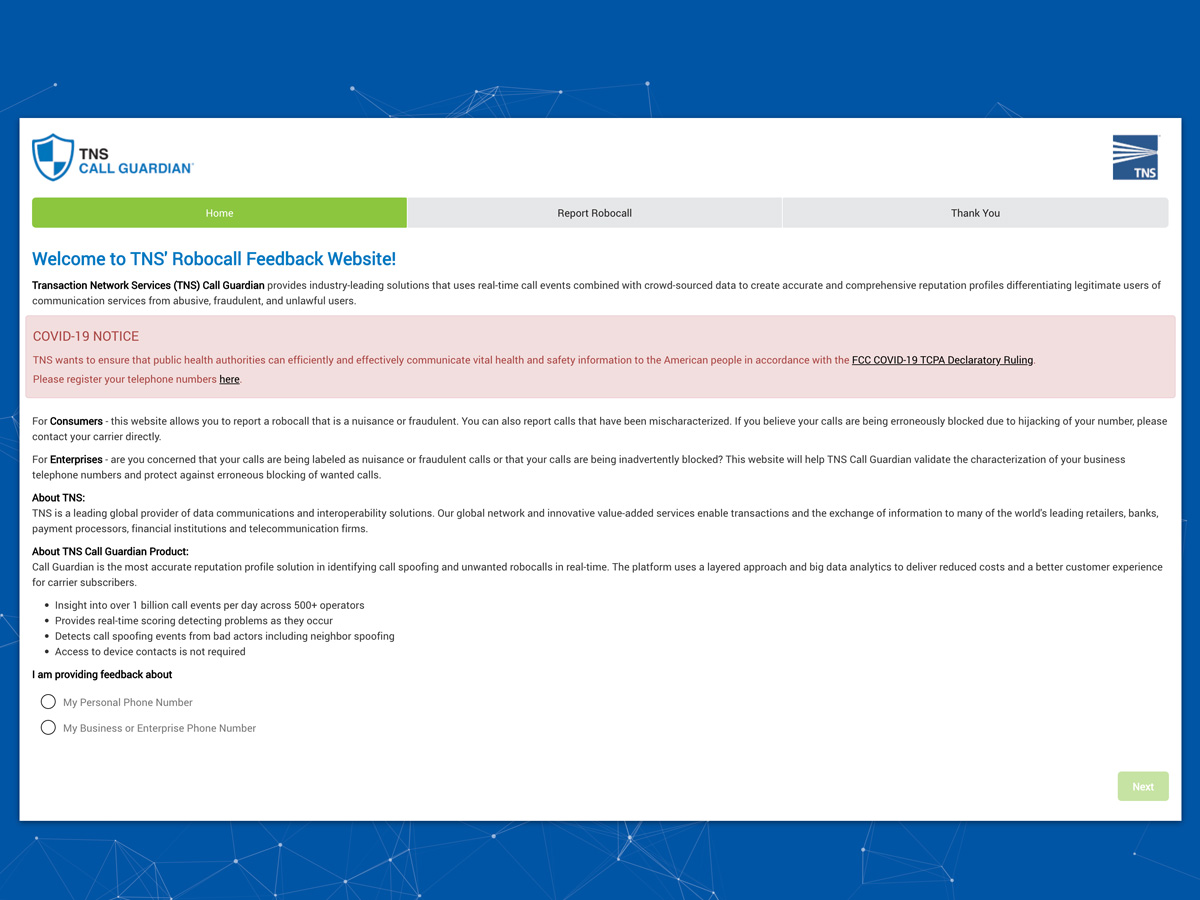 Take Action for Robocall Protection, go to: ReportARobocall.com
TNS Call Guardian uses real-time call events combined with crowd-sourced data to create accurate and comprehensive reputation profiles differentiating legitimate users from abusive, fraudulent and unlawful ones. Reporting robocall incidents adds important data making our solutions more robust.
Contact Us
Contact TNS to learn more about how our robocall protection services enhance your reputation and expand your business.
TNS Robocall Investigation Report Mailing List
Request to be added to the TNS Robocall investigation Report Mailing List Today
Recent Awards