Hurricane Scam Gives No Relief
Hurricane Ian became one of the most powerful storms to hit the US in recent years when it came barreling across the Caribbean into Florida in September. The Category 4 storm caused widespread disruption and is still creating a challenge for communities now.
Many people have been heartbroken by the destruction caused and have volunteered their time to support victims, as well as donated supplies and shelter. But unfortunately, we have seen a recent blast of phone scams targeting those who wish to help from afar.
Criminals are taking advantage of people's goodwill in wanting to help those who have been impacted by Hurricane Ian, but aren't necessarily able to directly volunteer or donate supplies and shelter, due to individual circumstances such as their location.
The scammers claim to be collecting funds for hurricane relief while posing as either a legitimate organization or as a made-up charity. These calls are a classic phishing scam, where they may ask for your bank account information, credit card information or ask you to buy gift cards.
Fraudsters may also attempt to collect cash door-to-door or through email, texts, and other messaging platforms such as social media. It is important to watch out for anyone pressuring you to give money and remember that legitimate charities are always grateful for any donation. The scammers may attempt to push you around until giving in and often appear very charming so it can be hard to see through their tactics.
If you wish to support victims of natural disasters, donate directly to a website of a legitimate organization such as the American Red Cross. It is best practice to not respond to any unsolicited requests for donations as tempting as it may be, unless you can safely verify the caller is really who they say they are. You should never give your credit card number or other personal information over the phone and block any callers that are requesting you do so. The Attorney General from New Jersey has good advice on steering clear of scams related to funds for hurricane relief.
If you believe you are the victim of a scam, you can report it to your local police, state Attorney General's office and the FTC.
Call-blocking apps, including those powered by TNS Call Guardian®, are also a great resource for reporting and blocking unwanted robocalls. Stay vigilant and share information about scams with others.
Call Guardian is a registered trademark of Transaction Network Services, Inc.
Discover more about how TNS robocall protection services help your subscribers and expand your network.
Unwanted Calls Nationwide Snapshot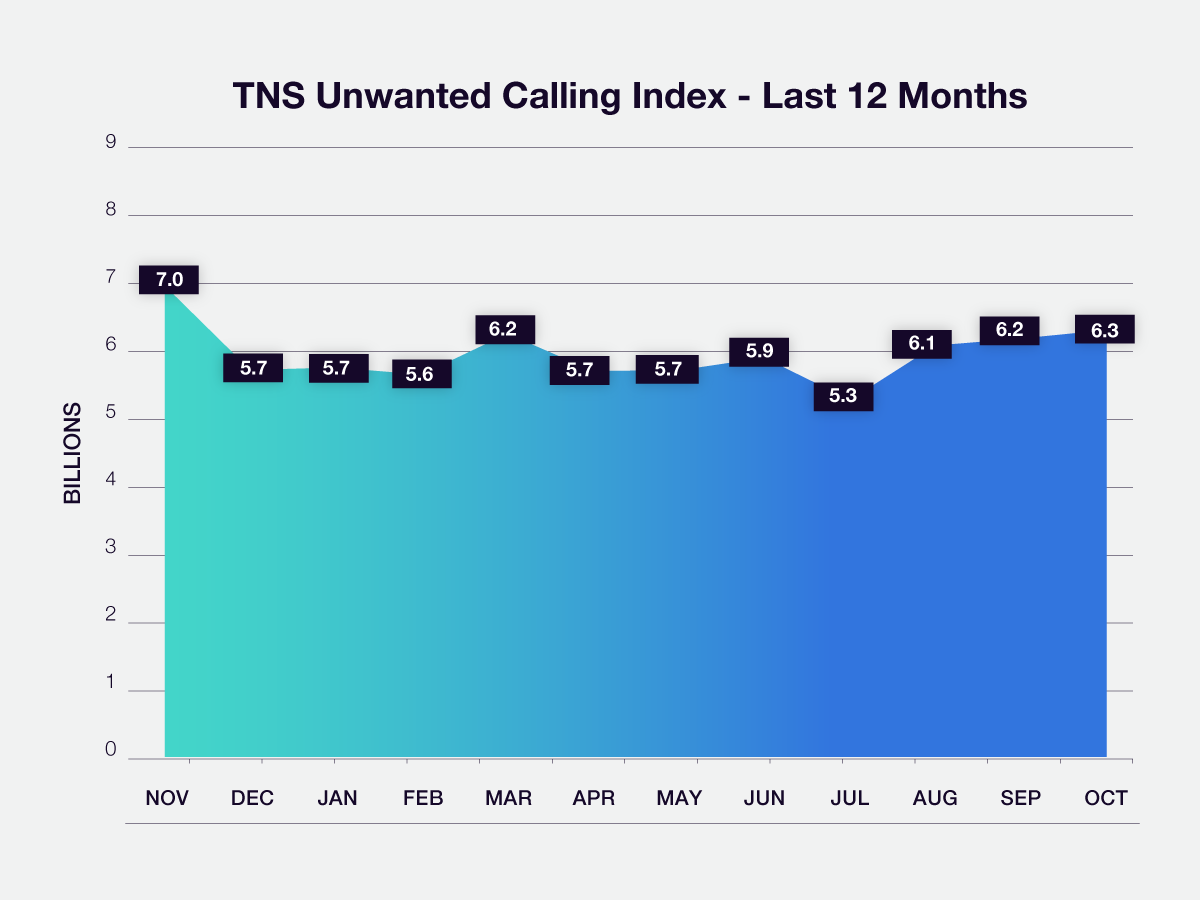 TNS estimates that more than 71.5 billion unwanted calls were made in the last 12 months representing an 11% decrease over the last 12 months versus the previous 12 months. Unwanted calls increased 2% from September to October at 6.3B. This represents an 18% decrease from October 2021 to October 2022.
Unwanted calls are comprised of nuisance calls and high-risk calls. The severity of harm of nuisance calls are moderate. The severity of harm for high-risk calls is deemed as a major invasion of privacy that can cause emotional distress.
TNS Heatmap of Originating Unwanted Calls
| | | |
| --- | --- | --- |
| Top 10 Area Codes for Generating Unwanted Calls – Oct 2022 | Top 10 Area Codes for Generating Unwanted Calls – Sept 2022 | Top 10 Area Codes for Generating Unwanted Calls – Sept 2021 |
| | | |
TNS Unwanted Call Indices
| | |
| --- | --- |
| TNS Calling Trust Index – Last 12 Months | TNS Complaint Index – Last 12 Months |
| The TNS Calling Trust Index is a measure of the crowd-source feedback for the unwanted calls that TNS receives in relation to the total number of calls to a subscriber. The index gives an indication of the consumer trust in voice calling and pulls data from our robocall protection platform TNS Call Guardian®. | The TNS Complaint Index is a measure of the FCC complaints for the Do-Not-Call List in relation to the total number of unwanted calls seen by TNS. The index gives an indication to how many consumers are reporting complaints to the FCC relative to the number of unwanted robocalls they receive. |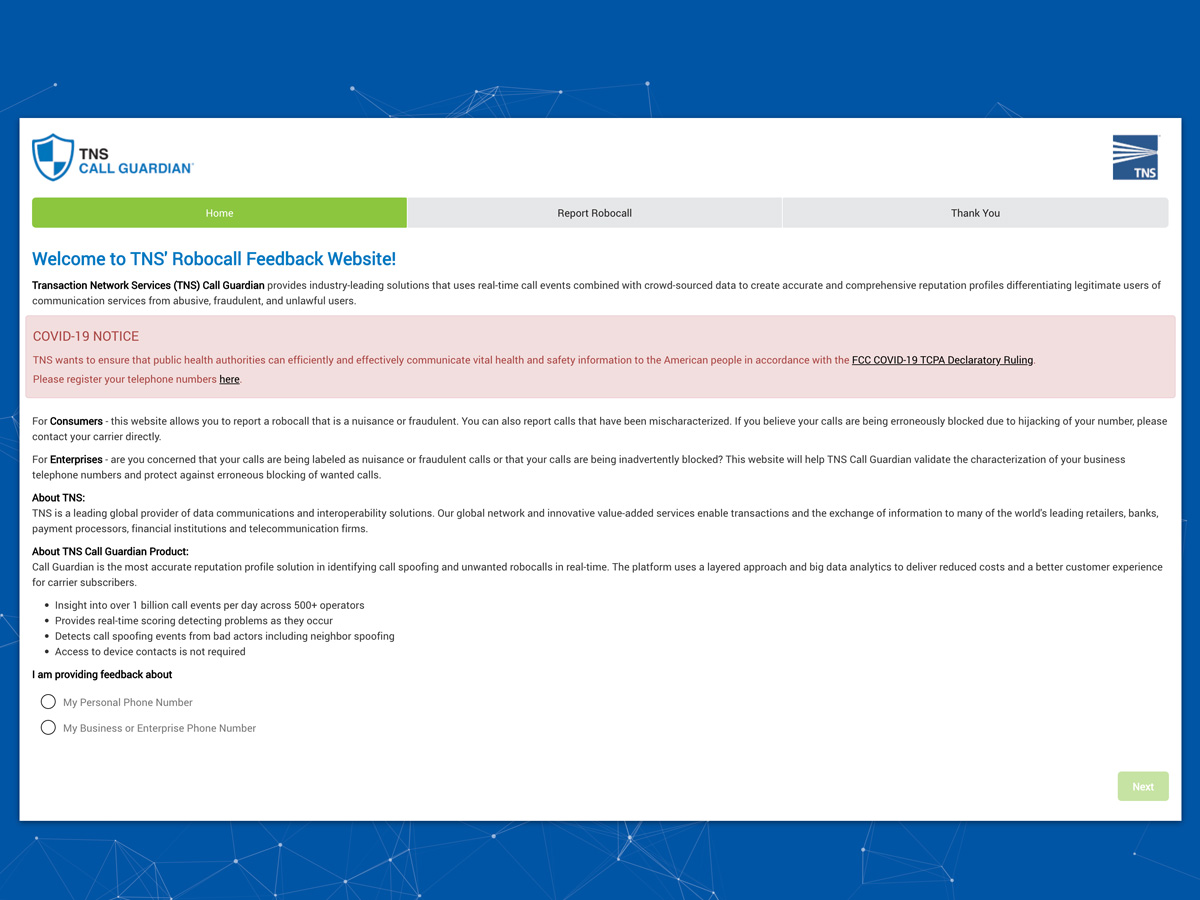 Take Action for Robocall Protection, go to: ReportARobocall.com
TNS Call Guardian uses real-time call events combined with crowd-sourced data to create accurate and comprehensive reputation profiles differentiating legitimate users from abusive, fraudulent and unlawful ones. Reporting robocall incidents adds important data making our solutions more robust.
Contact Us
Contact TNS to learn more about how our robocall protection services enhance your reputation and expand your business.
TNS Robocall Investigation Report Mailing List
Request to be added to the TNS Robocall investigation Report Mailing List Today
Recent Awards