Don't Let This Scam Call Jeopardize Your Home
Our homes are often our most prized possession, but this doesn't stop bad actors using them for their schemes. TNS' Robocall Protection team have seen many scams targeted at homeowners over the years. However, home buying scams have recently been on the rise as fraudsters seek to take advantage of the current sellers' market in the US. Home improvement scams are also a common tactic used to attempt to steal from homeowners' pockets. Keep reading as we explain how these schemes work and how to avoid falling victim to scammers posing as real estate brokers and contractors. 
Home Buying 
It is not uncommon to receive cold calls with offers to buy your home, especially for those who live in desirable neighborhoods. While some of these calls are legal as they come from established real estate brokers, be aware that some of the calls are coming from fraudsters searching for their next potential victim.  
Scammers may pose as a realtor with a great offer that sounds too good to turn down (or too good to be true!). They will likely ask for an administrative fee, which is how they fraudulently earn their cash. It is important to remember that legitimate real estate companies would not ask you to pay this fee over the phone and up-front at the point of an initial offer. This is a major red flag if you receive a home buying call. If you are looking to sell your house or apartment, it is best to ignore these calls and find a licensed and trusted realtor to assist in the sale of your home.  
Home Improvements 
Like home buying scams, contractors may cold call to advertise their services but some of these calls are not to be trusted. It is common for these calls to happen after floods, tornadoes and other natural disasters with the contractor often offering to fix roofs, windows or install solar panels. Those who are fraudulently offering services will likely promise to do the work but demand an up-front payment which they may run off with, without doing the job. If they do show up for the work, you might find the project in a worse condition than before.  
When looking for a contractor, it is best to ask for recommendations from people you trust and get multiple estimates before deciding who to hire for home improvements. Be wary of unsolicited offers from people you haven't vetted, whether they reach out via the phone, email or in person.  
It is best practice to never engage with unknown numbers and report phone numbers being used by scammers to your carrier. If you believe you are the victim of a scam, you can report it to your local police, state attorney's general office and the FTC.  
Call-blocking apps, including those powered by TNS Call Guardian®, are also a great resource for reporting and blocking unwanted robocalls. Stay vigilant and share information about scams with others.  
Call Guardian is a registered trademark of Transaction Network Services, Inc.   
Discover more about how TNS robocall protection services help your subscribers and expand your network.
Unwanted Calls Nationwide Snapshot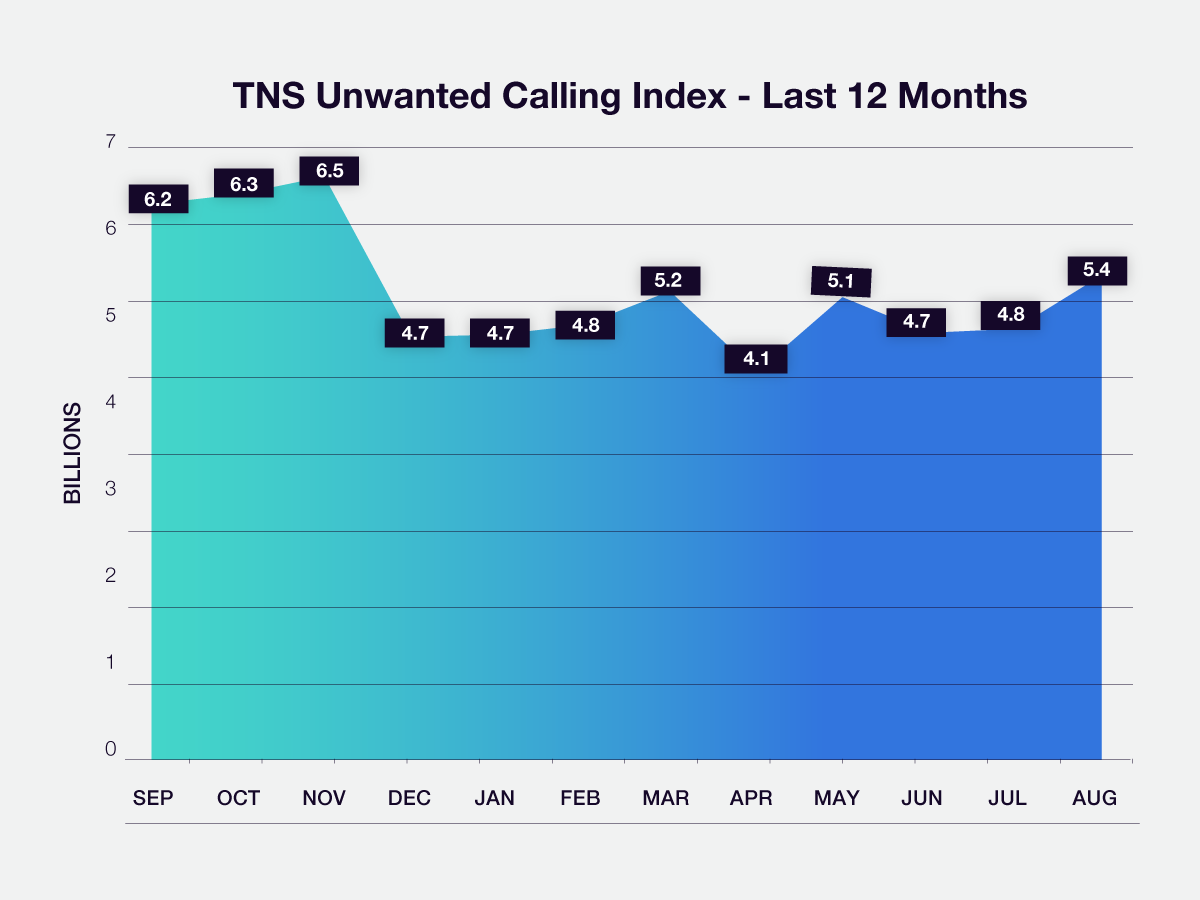 TNS estimates that more than 64 billion unwanted  calls were made in the last 12 months representing an 18% decrease over the last 12 months versus the previous 12 months.  Unwanted calls increased 12% from July to August at 5.4B.  This represents a 12% decrease from August 2022 to August 2023.
Unwanted calls are comprised of nuisance calls and high-risk calls. The severity of harm of nuisance calls are moderate. The severity of harm for high-risk calls is deemed as a major invasion of privacy that can cause emotional distress.
TNS Heatmap of Originating Unwanted Calls
| | | |
| --- | --- | --- |
| Top 10 Area Codes for Generating Unwanted Calls – August 2023 | Top 10 Area Codes for Generating Unwanted Calls – July 2023 | Top 10 Area Codes for Generating Unwanted Calls – August 2022 |
| | | |
TNS Unwanted Call Indices
| | |
| --- | --- |
| TNS Calling Trust Index – Last 12 Months | TNS Complaint Index – Last 12 Months |
| The TNS Calling Trust Index is a measure of the crowd-source feedback for the unwanted calls that TNS receives in relation to the total number of calls to a subscriber. The index gives an indication of the consumer trust in voice calling and pulls data from our robocall protection platform TNS Call Guardian®. | The TNS Complaint Index is a measure of the FCC complaints for the Do-Not-Call List in relation to the total number of unwanted calls seen by TNS. The index gives an indication to how many consumers are reporting complaints to the FCC relative to the number of unwanted robocalls they receive. |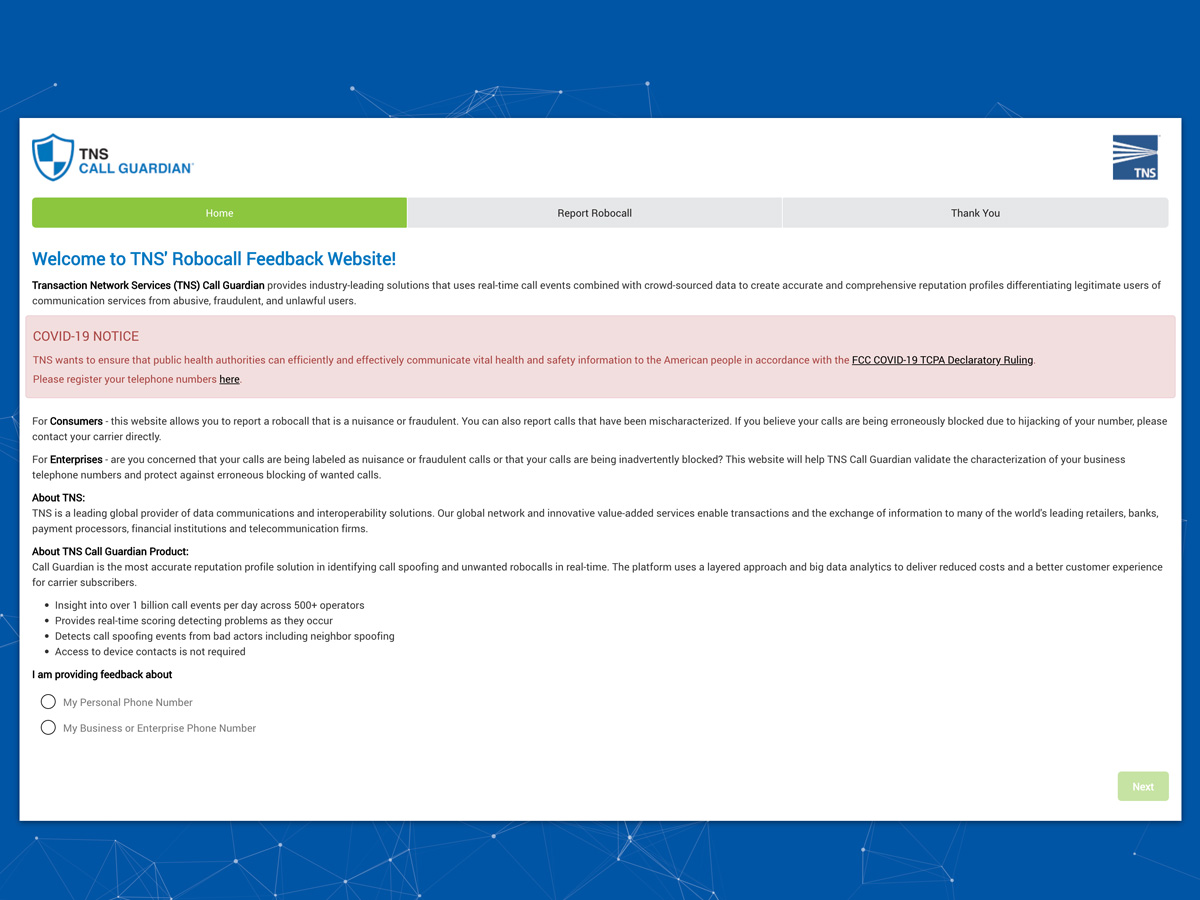 Take Action for Robocall Protection, go to: ReportARobocall.com
TNS Call Guardian uses real-time call events combined with crowd-sourced data to create accurate and comprehensive reputation profiles differentiating legitimate users from abusive, fraudulent and unlawful ones. Reporting robocall incidents adds important data making our solutions more robust.
Contact Us
Contact TNS to learn more about how our robocall protection services enhance your reputation and expand your business.
TNS Robocall Investigation Report Mailing List
Request to be added to the TNS Robocall investigation Report Mailing List Today
Recent Awards