Robocalls placed by bad actors threaten to undermine the relationship that legitimate businesses have with consumers. Americans received more than 77 billion unwanted robocalls over the past year and, on average, receive between nine and 10 unknown calls per week. As a result, consumers have become conditioned to not answer the phone unless they know who is calling.
In our biannual Robocall Investigation Report, we were not surprised to find that receiving relevant context for incoming calls is valuable: more than half (52%) of consumers say that seeing brand information affects their trust in the call.
That being said, the incoming caller still has a large impact on consumers' willingness to answer calls. For example, 34% of respondents indicated that they would answer a call from their doctor, whereas only 14% of people are willing to answer if it appears to be a business solicitation.
While only 11% of respondents will answer an unknown number, that number rises to 30% if the call has a name attached, 33% if it has a logo, and 50% if it includes the name, logo and reason for the call.
While the likelihood of someone answering unknown calls without being given the organization name, logo and/or intent is low, consumers have become less trustful of incoming calls in general. When compared to 2018, the likelihood of consumers answering phone calls with a logo and intent has decreased by 19%. Additionally, the level of trust in enterprise callers being truthful about who they are is also significantly lower, with a 28% decrease.
Enter Branded Calling
Communication technologies continue to evolve in order to improve the subscriber experience when it comes to engaging with brands. Accelerating the development and deployment of branded calling – paired with analytics solutions – is a good place to start in order to restore trust in voice calling and undo the damage that robocalls have had on consumers, businesses and carriers.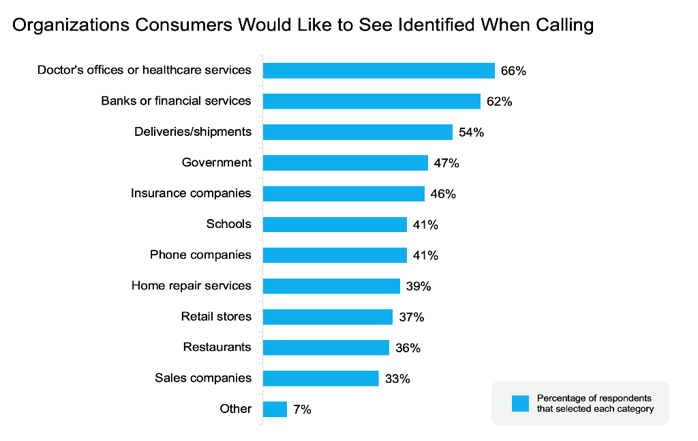 Branded calling provides helpful identification on an incoming call screen that allows a company or organization – such as a pharmacy, school or municipality – to provide important information to the call recipient. This can include information on the screen like organization name, logo and reason for calling, thus enriching the user experience while ensuring recipients don't miss important calls.
To further engender caller trust, carriers must consider pairing branded calling with advanced data analytics to parse the massive volumes of daily call events and identify patterns in emerging robocall tactics. This allows carriers to verify phone numbers and accompanying call information, as well as identify and flag suspicious call patterns or possible spoofing, thus further improving trust with the consumer.
Mike Schinnerer is Vice President of Product Management for TNS. He provides strategic and tactical direction for the product team in managing the delivery of TNS' Enhanced Caller Name ID product solutions across all major mobile OS and network OEM platforms