Exploring new ways to connect
Even though online purchasing continues its growth, it's important to remember that shopping in physical stores still accounts for 87.5% of spending in the US and Australia, and 85% across Europe.*1 Retailers in these countries are continuing to explore new ways to transform the experience and reduce costs-to-serve.
Here, we're highlighting three important reasons why kiosks are transforming the shopping experience and how retailers can benefit.
Three key reasons why self-service kiosks are transforming shopping
REASON 1
Kiosks work well in a world that's seeing the switch to contactless payments accelerate.
Touchless, cashless payments are becoming the new norm for many consumers and self-service kiosks are ideally suited to this shift.
According to Amex's Digital Payments Trendex Survey conducted in August 2020, 70% of retailers say their customers want the option of contactless tap-and-go or mobile app payment, while 81% of merchants who currently offer or plan to offer contactless payments say they intend to make this a permanent option for their customers.*2
The pandemic has added a further reason to develop innovative approaches to transform the consumer in-store experience. It's a transformation that's enabling retailers to introduce new ways for shoppers to encounter their offer, and it's also a move that allows them to reassign employees to more value-adding roles.
That's why the deployment of self-service kiosks that include unattended, touchless payment technology has become a key priority.
Today's self-service kiosks, which integrate a suite of complementary technologies into an intuitive, immersive shopping experience, enable retailers to provide a wider range of goods and services — quickly, hygienically and conveniently.
They also create upselling opportunities as customers use the technology to explore and purchase other offers.
REASON 2
Kiosks deliver benefits for consumers and retailers alike.
Around the world, evidence is mounting that self-service kiosks are delivering real results — for consumers, and for retailers across a wide range of sectors, including fast food, grocery, fashion and homewares.
Self-service kiosks — benefitting retailers and consumers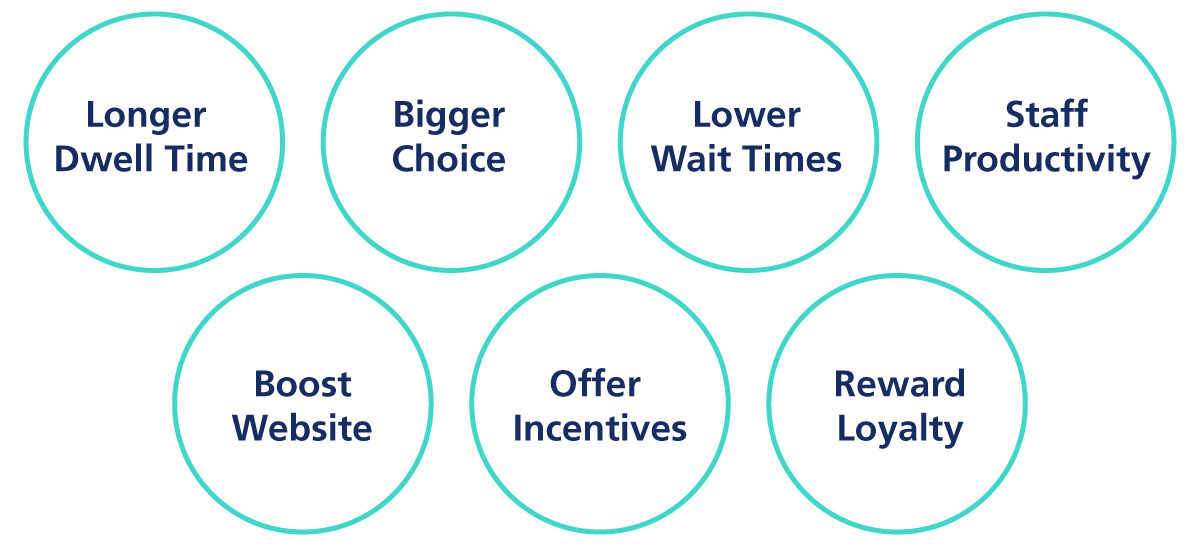 Kiosks improve and expand the shopping experience, they're quick and easy to use, and they deliver significant benefits both for consumers and for retailers. They also enhance a retailer's ability to manage their business in an agile way — while simultaneously meeting increasingly sophisticated customer expectations3.
REASON 3
Proven technology, expertise and experience is available for all retailers to integrate kiosks into their offer.
Driven by technological innovation, and accelerated by the pandemic, self-service kiosks are now able to deliver a faster, more seamless in-store shopping journey.
It's an experience that not only exceeds customer expectations, but also one that can boost sales and be fully integrated into a retailer's key operating, financial and inventory control processes.
A central element of the technology's credentials is its versatility in application.
Touchscreens can show how an item of clothing would look on you — in that shade, or in others that are available. Cakes can be designed and ordered in a fun, fuss-free way. Discounts or offers that align to the customer's shopping preferences can be presented to boost loyalty and achieve higher sales. "Coming Soon" lines can be trailed to encourage consumers to return later and buy again.*4
Used imaginatively and in ways that reflect a retailer's deep understanding of their customers, the ecosystem of self-service kiosk technology can empower store operators to secure and nurture better relationships with consumers.
The hardware, applications and payment infrastructure solutions now exist to make it happen — and more retailers are already proving its success.
Summary
In a world that's seen the pandemic accelerate the switch to contactless payments, self-service kiosks enable retailers a powerful way to optimise their relationships with customers. The technology delivers intuitive, immersive shopping experiences, and allows retailers to offer a broader mix of goods and services — quickly, hygienically, and conveniently. Kiosks also boost the potential to manage business with agility — while, at the same time, ensuring that retailers are well placed to meet more sophisticated customer expectations.
TNS as an Enabler
TNS is a leading payments services supplier to the retail sector. We help retailers benefit from better consumer payment experiences.
UnattendedPayments is our hardware agnostic solution that enables self-service kiosks to accept cashless payments via cards and mobile wallets — quickly and securely.
TNS can guide you through some of the key points to consider as you develop your kiosk deployment strategy, including…
Ensuring that your solution delivers an intuitive, touch-free payment experience via mobile wallets and cards
Ensuring that your payment processing is supported by a robust payment gateway with global capability
Ensuring that each element of your solution is fully integrated for seamless operation
Find out how TNS can help you plan your self-service kiosk strategy.
*1 https://auspost.com.au/content/dam/auspost_corp/media/documents/2020-ecommerce-industry-report.pdf
https://www.statista.com/statistics/379112/e-commerce-share-of-retail-sales-in-us/
https://www.statista.com/statistics/281241/online-share-of-retail-trade-in-european-countries/
*2 https://network.americanexpress.com/globalnetwork/dam/jcr:82bf7f34-848c-4bd0-84fd-6bb679c3da8b/Amex%202020%20Digital%20Payments%20Trendex%20-%20The%20Time%20for%20Contactless%20Is%20Now.pdf
*3 https://www.insight.tech/content/the-future-of-self-ordering-kiosks
*4 https://www.archerpoint.com/blog/Posts/self-managed-kiosks-give-retailers-and-consumers-touchless-experience