The pandemic has reminded us that — even when a single event impacts large portions of the world — different regions experience and manage it in different ways. In the payments industry, we're seeing similar geographic variations in response to a different scenario: 2G and 3G network decommissioning.
Cellular carriers and telecommunications companies in several countries have made plans to shut down their 2G networks, or their 3G networks, and, in some cases, both, over the next one to four years (depending on the carrier). Others have already decommissioned 2G and/or 3G. This will allow these carriers to concentrate investment on, and reallocate spectrum capacity to, 4G.
While 4G coverage now accounts for more than 50% of mobile connections globally, according to the GSMA, reliable connectivity depends on the region and the carrier. For example, Open Signal research from 2020 found that even in countries with excellent 4G coverage, users don't have access to 4G networks 100% of the time.
Here's a sampling of countries and the percentage of time users can connect to a 4G signal: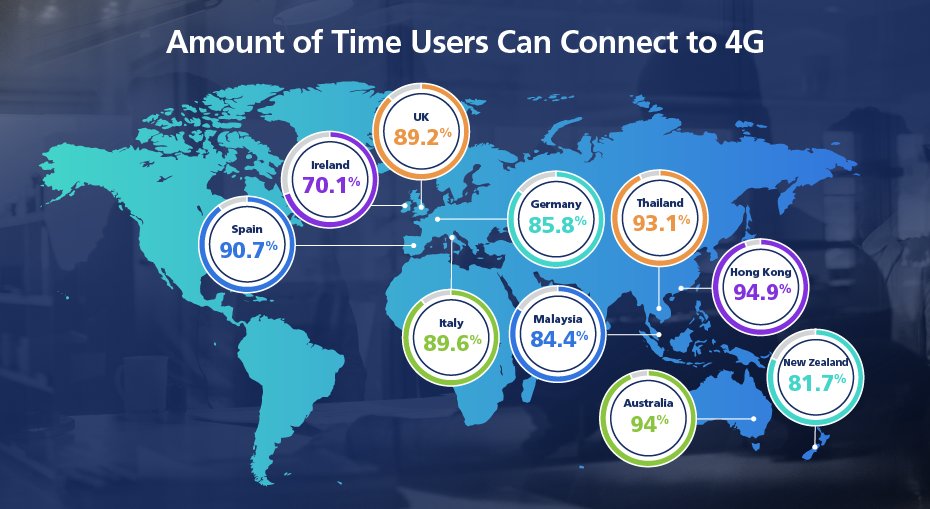 Even though none of these countries offers 100% 4G availability, many carriers in these countries have announced 2G and 3G network shutdowns:
Spain:
Vodafone will shut down 2G on Dec. 31, 2025.
Telefónica Móviles will shut down 3G on Dec. 31, 2025.
Italy:
Vodafone Italia S.p.A shut down 3G on Feb. 28, 2021.
Vodafone will shut down 2G on 2G Dec. 31, 2025.
Germany:
Vodafone will shut down 2G on Dec. 31, 2025.
Telefónica Germany GmbH & Co. OHG will shut down 3G on Dec. 31, 2021.
Telekom Deutschland GmbH and Vodafone GmbH have already shut down 3G as of June 30, 2021.
UK:
EE Limited and Vodafone Ltd will shut down 3G on Dec. 31, 2022.
EE and Vodafone will shut down 2G on Dec. 31, 2025.
Ireland:
Vodafone will shut down 2G on Dec. 31, 2025.
Australia:
Telstra Corporation Limited shut down 3G on June 30, 2021.
New Zealand:
Vodafone will shut down 2G on Dec. 1, 2025.
Malaysia:
All operators – Celcom Axiata Berhad, Digi Telecommunications Sdn. Bhd., Maxis Broadband Sdn. Bhd., and U Mobile Sdn. BHd. – will shut down 3G in planned closures on Dec. 31, 2021.
Digi will shut down 2G on Dec. 31, 2024.
Thailand:
Dtac will shut down 2G on Dec. 31, 2021.
dtac TriNet Co., Ltd. will shut down 3G on Dec. 31, 2025.
Other carriers in these countries have not announced any end-of-life dates for their 2G or 3G networks, but even those that have not announced shutdowns are known to be withdrawing capacity from existing legacy services and running minimum viable levels of service. Even one carrier shutting down their coverage can impact other devices dependent on that network generation. There may be fewer operational towers and less spectrum available on that network, but the same number of devices trying to use it, which may cause connectivity issues.
The situation will probably be more critical for point-of-sale (POS) terminals. Many POS terminals, including legacy models, contain modules that can't connect to all network generations. Those terminals, as well as those that are bound to a carrier that is shutting down 2G or 3G service, may begin experiencing connectivity drops. For a merchant, whose revenue depends on being able to accept card payments via terminals, intermittent connectivity disrupts business. This, in turn, affects the payments service providers and POS deployers whose customers are those merchants, unless they replace these terminals.
The network shutdown event shows the value of replacing customers' POS terminals with technology that is not bound to a single type of network, or even a single carrier, to provide reliable connectivity.
How can TNS help?
With extensive coverage globally, TNS currently supports more than one million SIM cards around the world and has managed many guided shutdowns for customers. We can offer support to the migration of POS estates by providing in-depth reporting and tracking and engaging with you to develop a plan for transitioning your estate to the supported wireless technologies.
Working with TNS enables PSPs and POS deployers to reterminalize the right way. Our strength lies in working closely with you on an effective, timely reterminalization plan. Contact us today to find out how our decades of experience; portfolio of complete solutions and managed services; and global network coverage alongside localized support, can help you effectively respond to this challenge.
Dan Lyman is Head of Global Products for TNS' Payments Market business. He leads a global team of product specialists and is responsible for driving product innovation across TNS' extensive portfolio of payments solutions.